Innovation
Q2 2021 Open Banking tracker
July 1, 2021
In the second quarter of 2021, open banking in Europe continued to grow at a steady pace. The initial disruption wrought by the UK's formal departure from the EU appears to have settled, with many third parties continuing to provide services in the UK under the Temporary Permissions Regime (TPR).
"The numbers of third party providers are mostly steady this quarter as the fall-out from Brexit begins to settle," says Jim Wadsworth, senior vice president for open banking at Mastercard.
Headlines at 30 June 2021:
497 third-party providers were registered with a National Competent Authority in Europe. 287 third parties were registered in the EEA, while 210 were registered in the U.K.

The number of third parties grew by 5 percent across the region — the same rate as the previous quarter. The growth rate in the EEA was 6.7 percent, while there was 2.4 percent growth in the U.K.

Each EEA country has at least 47 registered third parties under European passporting arrangements; the U.K has 255 including 45 under the TPR.

Across the region, 94 percent of third parties were authorised to provide account information services; of these, 50 percent were also authorised to provide payment initiation services.
Our European open banking tracker is brought to you in collaboration with Konsentus, the software as a service company in which Mastercard is invested and that helps to power Open Banking Protect. To learn more about Mastercard Open Banking Solutions, visit openbanking.mastercard.com, and register your interest to learn more.
Read a full summary of growth and progress in Open Banking for Q2 2021 below.
Open Banking to the end of Q2 2021
Number of registrations
At 30 June 2021, the total number of third-party providers that were registered with a National Competent Authority to provide open banking services in Europe — both the U.K. and the countries of the EEA — was 497. Two hundred and five third parties were registered with the U.K.'s Financial Conduct Authority, while 269 were registered in the EEA.
Twenty-three new third party providers were registered in the period overall, of which five were in the U.K.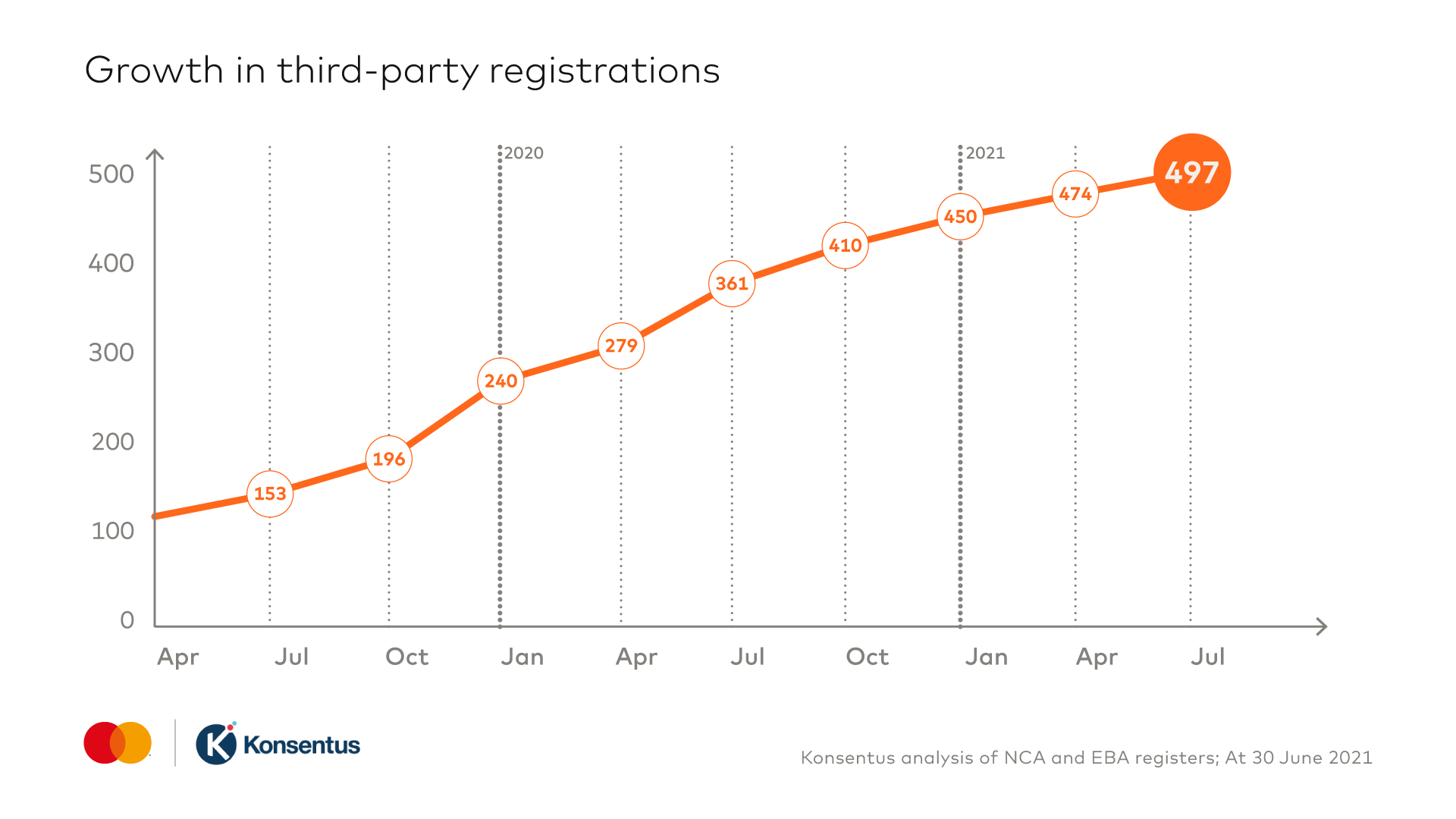 The rate of growth in third party registrations was equal to that of the previous quarter. The increase was 6.7 percent in the EEA and 2.4 percent in the U.K., which averages at 5 percent growth across the region. It represents a 38 percent increase year-on-year.
Location of registrations
Old news by now, the U.K. continued to top the table of home-registered third parties and growth by number.
There were three new registrations in Poland, while Germany and Sweden recorded increases of two each to maintain their positions — now seemingly safe — in second and third places respectively. France, where there were also two new third parties, shared fourth with the Netherlands.
Iceland, Portugal and Malta remain the only countries with no home registered third party providers. Romania, which has long been a member of that pack, now has one home registration.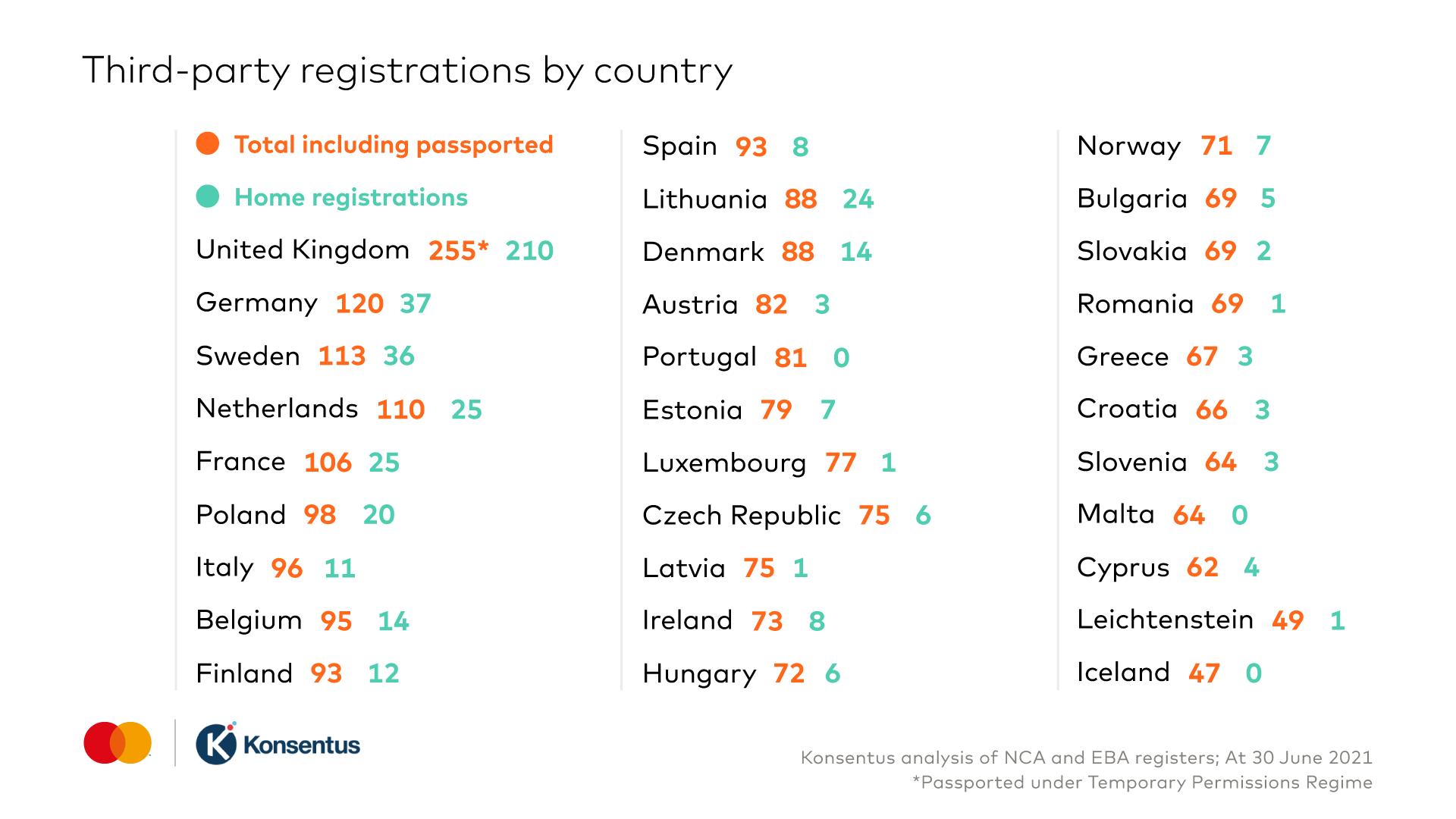 At 30 June 2021, there were 45 third-parties permitted to provide services in the U.K. under the TPR, bringing the U.K. total to 255. It's not too far off the 267 we recorded at the end of last year, before the country's formal departure from the EU triggered a decline.
Six months since Brexit, the number of third parties that are permitted to provide services elsewhere in the region had yet to recover so well. For example, at 31 December 2020 lowest ranking (by total including passporting) Liechtenstein was host to 75 third parties. Last quarter, while the country had climbed one spot up the table, our tracker counts only 49.
This is largely because the EEA has not established a regime to allow U.K. regulated financial entities to continue passporting their services into EU countries. Generally, U.K. third parties must apply for local registration in the EEA if they wish to provide services in the region.
Numbers in other countries, such as the Netherlands, Italy and Spain (which did make allowances for U.K.-registered third parties to provide services in the country, albeit temporarily) had risen better. They had the highest number of passporting third parties with 85 each, but totals weren't yet back to where they peaked.
Types of solutions
At the end of last quarter, 94 percent of third parties were registered to provide account information services, of which half (50%) were also authorised to provide payment initiation services.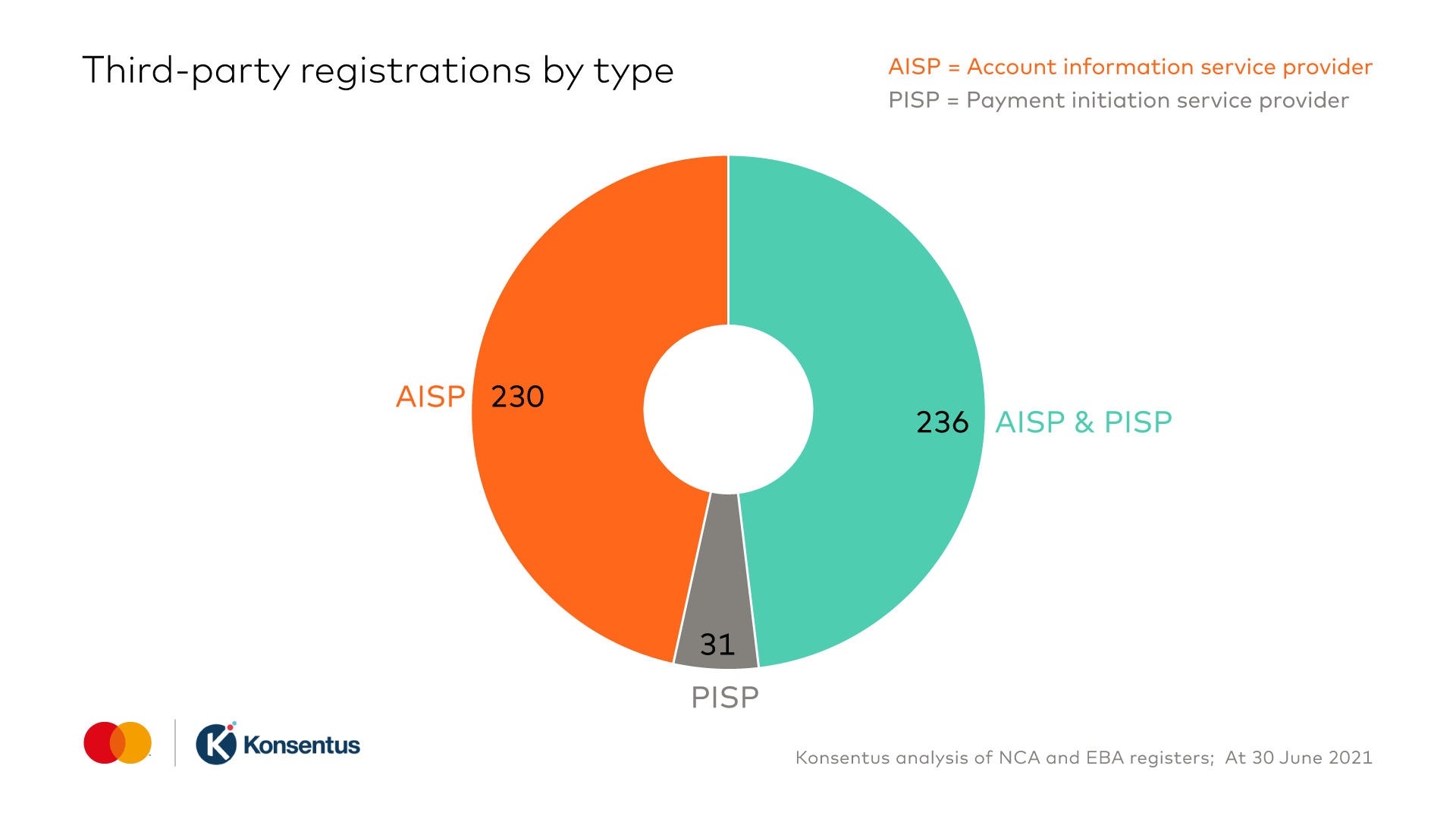 The remaining six percent were registered to provide payment initiation services only. This follows a long-term trend, but rounded percentages disguise a fairly significant increase by four to total 31 by number, which suggests more new third parties are registering to provide payment initiation services first.
Open banking at Mastercard
As this tracker records, third-party provider registrations, specifically third-party providers passporting their services, has consistently increased with most countries having more third-party providers licensed to offer services via passporting than domestically. Mastercard's Open Banking Protect can provide a financial institution confirmation a third-party provider is licensed and certified as well as verifying they are authorised to passport their services.
On the home front this month, we were delighted to announce a partnership with Lloyds Bank Commercial Banking to deliver a new Open Banking payment solution to Lloyds Bank's business clients in the UK. The solution – which is compatible with most retail bank accounts – lets consumers make payments on an organisation's website directly from their bank account without having to enter any payment details, improving speed and security while providing them with greater payment choice.
Finally, this quarter's tracker complements the findings from Mastercard's Open Banking Readiness Index, which provides insight into how ten European countries are preparing the move towards a fully realised open banking environment.
Information correct as of 26 July 2021
Data (unless otherwise sourced) is provided by Konsentus. Analysis of EEA National Competent Authority and European Banking Authority PSD2 registers
In June 2019, Mastercard led a multi-million-pound pre-Series A funding round in Konsentus