Innovation
Q3 2022 Open Banking tracker
November 23, 2022
Growth in Europe's open banking market stalled in the third quarter of 2022 as the sector continues to consolidate. Across the region, the total number third-party providers (TPP) stood at 559 at the end of October, unchanged from the previous quarter.
Behind the headline number, the picture was more complex. The European Economic Area (EEA) gained a net eight TPPs while one was authorized by Gibraltar. These were offset by nine UK providers losing their licenses to offer open banking services.
Licenses can be lost due to factors such as company takeovers, business collapses or regulatory requirements.
The number of fintech companies looking to gain passporting permissions also started to slow during the same period. Each EEA country gained three new passported TPPs, down from nine in the previous period. These permits enable fintechs to offer services in countries other than their home markets.
Despite the slower growth, 21 EEA countries now have more than 100 passported TPPs, up 31 percent from the previous quarter. Spain retained its top spot with a total of 123, while two TTPs from Sweden and Lithuania were stripped of their licenses to provide open banking services. However, overall, transaction volumes continued to increase as the ecosystem grew and adoption rose over the quarter.
"These figures are evidence that we're starting to see greater stability in the market," says Alexia Hagen, senior vice president for open banking at Mastercard. "The spotlight is shifting away from new players snapping up licenses to creating and improving open banking services." 
Headlines at 30 September 2022:
559 third-party providers were registered with a National Competent Authority in Europe, unchanged from Q2 and up from 535 in Q1. Overall, a net 346 third parties were registered in the EEA, up from 338. In the UK, 212 were registered, a fall of nine. However, one TPP was registered in Gibraltar which is a British Overseas Territory

Sweden holds on to its spot as the country with the highest number of TPPs (37), despite losing one home provider. One Lithuanian provider also lost its license

Once again, Spain has the highest number of passported TPPs at 123. Germany and Italy rank joint second with 120, followed by Austria, Finland and Belgium on 119 each

Overall, 90 percent of EEA countries have 100 or more passported TPPS, up 17 percent from the previous quarter, as demand for services provided by fintechs regulated elsewhere continues to climb

Eleven new TPPs were registered to provide open banking services in eight different countries including Cyprus, Lithuania and Slovakia 
Our European open banking tracker is brought to you in collaboration with Konsentus, the software as a service company in which Mastercard is invested. Read a full summary of growth and progress in Open Banking for Q3 2022 below.
Open Banking to the end of Q3 2022
Number of registrations
Following our pattern, we will report on total third-party registrations in Europe, showing consolidated figures and where appropriate, breaking out the UK and the EEA. At 30 September 2022, the total number of third-party providers that were registered with a National Competent Authority to provide open banking services in Europe was 559, of those, 212 were in the UK and 346 in the EEA.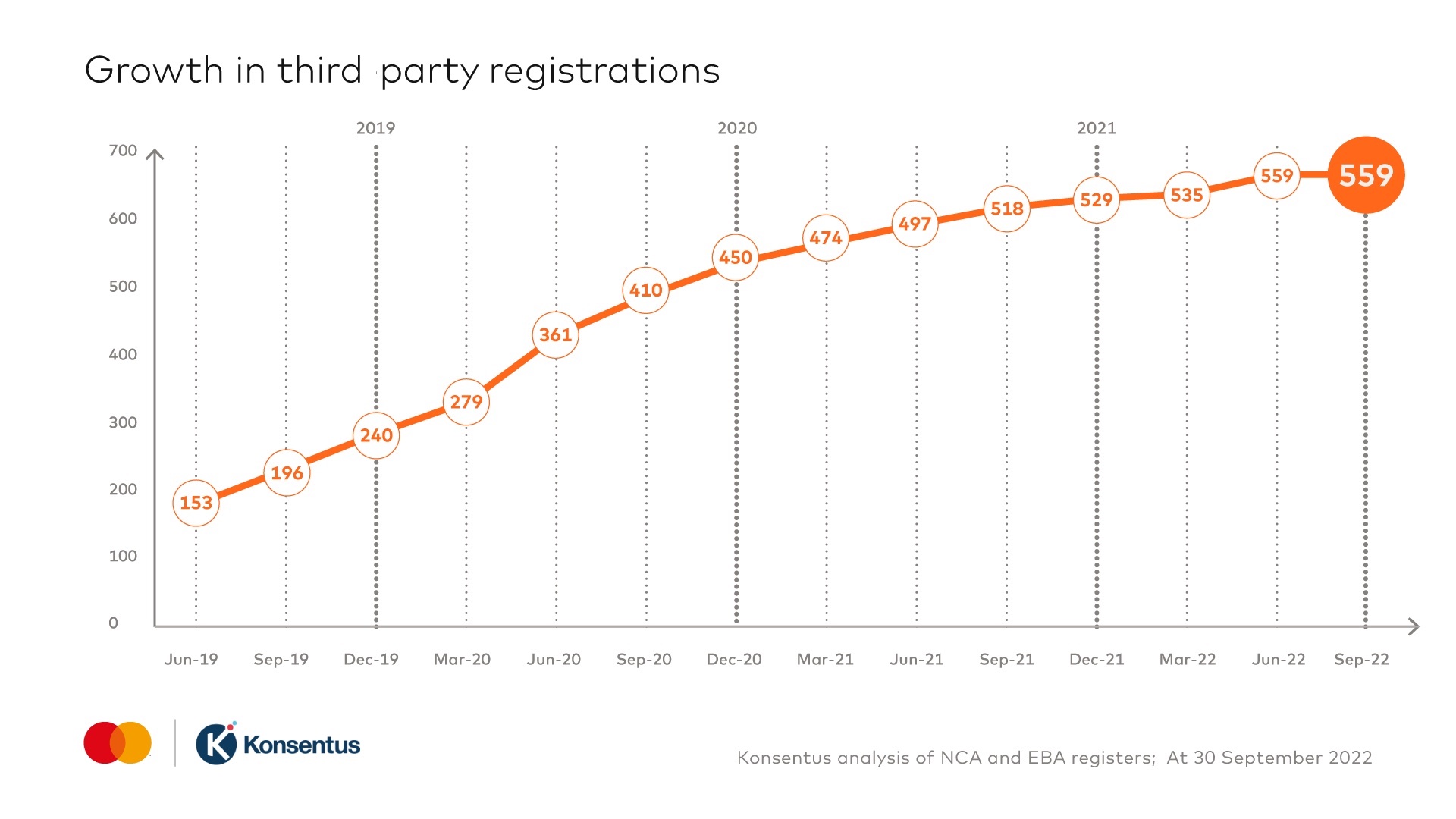 This quarter's growth is unchanged from the previous quarter. It follows a rise of 4.5 percent or 24 third-party providers in the quarter to June 30, and a 1.1 percent gain in the first quarter of 2022.
Location of registrations
Spain hangs to its spot at the top of the list of passporting countries with a total of 123 registrations, up four from the previous quarter. Germany climbs to take second place alongside Italy as it added five passported TPPS to reach 120.
Austria, Belgium and Finland all have 119 passported TPPs, followed by Portugal, Netherlands, Latvia and Poland.
The top 10 countries for home-regulated TPPs remained largely unchanged with the exception of Spain and Finland edging into the table to join Ireland with 13 each.
In the third quarter of 2022, each EEA country had a total of at least 72 TPPs, a gain of 3 percent on the second quarter.
Now, 90 percent of all EEA countries have more than 100 third-party providers (home and passported or registered under the Temporary Permissions Regime). That marks a rise of 17 percent from the previous quarter.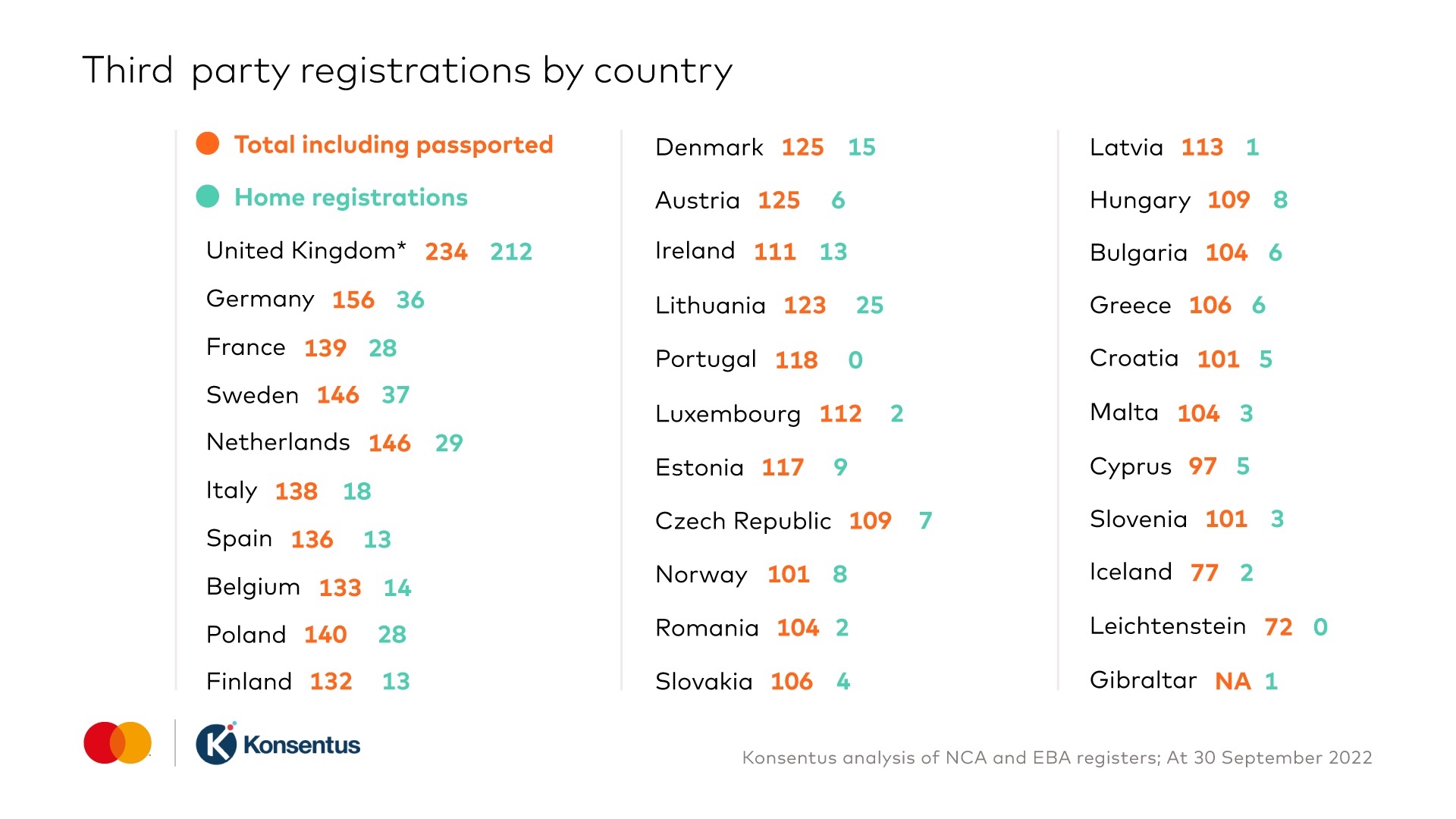 Now the Brexit transition period has ended, EEA-based firms can no longer passport into the UK. Where necessary, they will now need to be authorized and regulated by the PRA and/or the FCA in the UK. EEA-based investment funds also fall under this umbrella and can no longer be marketed under a passport in the UK.
Types of solutions
Now that EEA-based firms can no longer passport into the UK, tracking will be limited to EEA numbers. Of the newly-regulated TPPs this quarter, 71 percent of them are authorized to provide payment initiation services (PIS), despite higher regulatory requirements than providing account information services (AIS).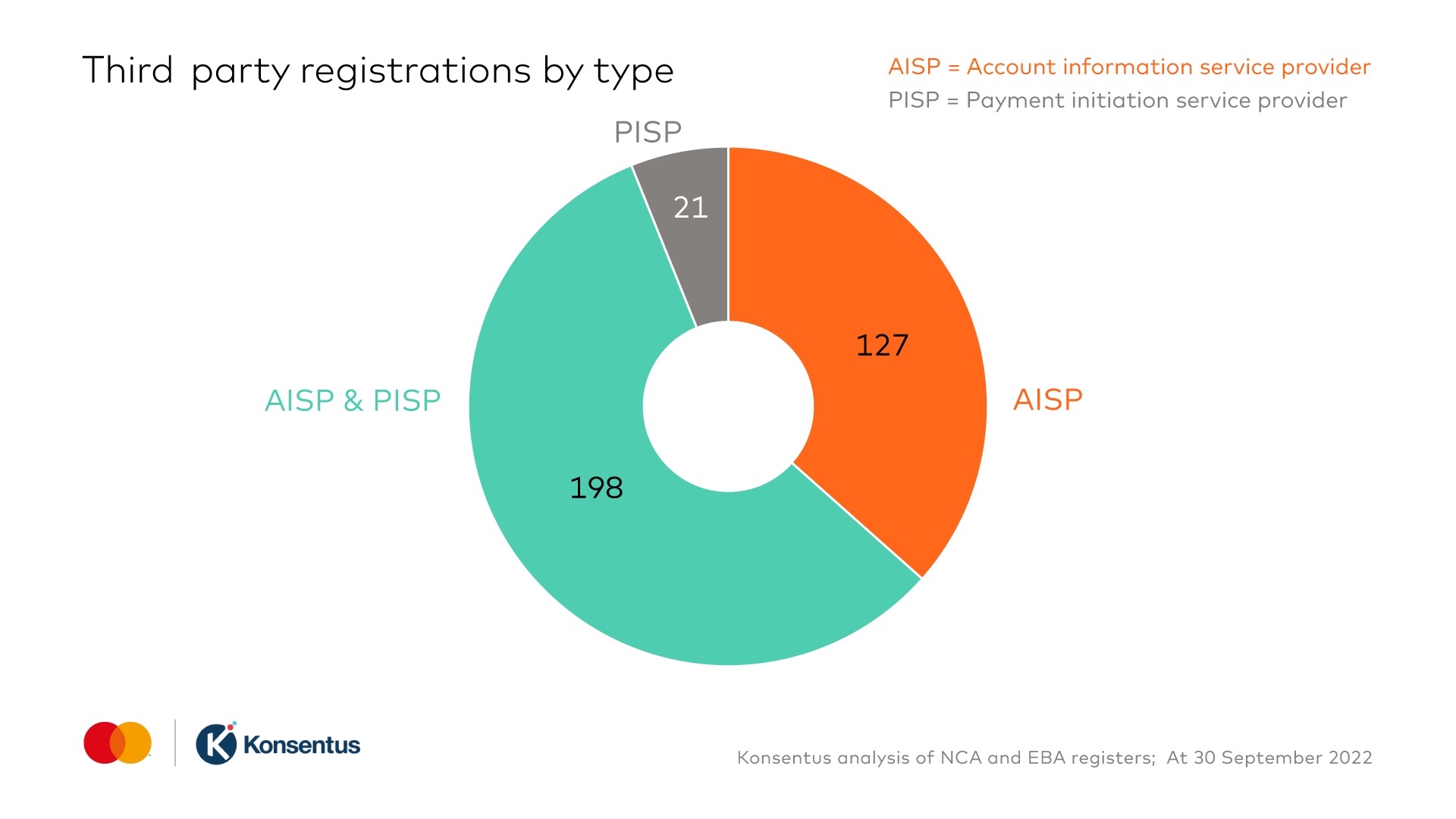 Now that EEA-based firms can no longer passport into the UK, tracking will be limited to EEA numbers. The total number of TPPs authorized to provide payment initiation services (PIS) remained flat at 63 percent as a smaller number of newly-registered TPPS were permitted to offer the services.
Provision of services based around account data have long been most common among new participants to the market, but growing confidence in the functionality and security of open banking payments among providers and users continues to drive additional registrations as dual providers.
Open banking at Mastercard
Aiia, a Mastercard company, and NORD.Investments announced a new collaboration that will enable quick, easy and secure top-up open banking payments in Denmark's largest independent digital investment advisor platform.

Until now, NORD.Investments' customers needed to go into their online bank and manually enter their investment account details to move money to the investment platform.  

With Mastercard's open banking network, NORD.Investments now allows customers to make account-to-account payments in a single investment platform at the click of a button. This makes the process quicker and easier and reduces human errors that can occur when typing in long digits manually.
"Now we're able to offer everything on our own platform, making it significantly easier for people to get started with their investment plans," says Anders Hartmann, chief executive and co-founder of NORD.Investments.
Open banking gives consumers complete control over their financial data and enable them to use it to power solutions that help make their lives simpler.
This new payment solution is set to improve the user experience significantly for more than 7,000 users for whom NORD.Investments manages more than 2 billion Danish Krone – a number that's rapidly growing by the day.
"This encourages more users to add funds to the investment platforms and allows NORD.investments to grow their business - the future possibilities are many," says Jonas Vogt Rasmussen, vice president of banking sales at Mastercard.
NORD.Investments was recently granted an investment firm license by the Danish Financial Supervisory Authorities, allowing it to expand its platform into new European markets.
Information correct as of September 30, 2022
Data (unless otherwise sourced) is provided by Konsentus. Analysis of EEA National Competent Authority and European Banking Authority PSD2 registers
In June 2019, Mastercard led a multi-million-pound pre-Series A funding round in Konsentus