Q4 2021 Open Banking tracker
March 28, 2022
In the fourth quarter of 2021, open banking in Europe continued to grow, yet at a slower rate than the previous quarter. Notably, there was no new third party provider (TPP) growth in the UK for the entirety of Q4 as existing third party providers focused on passporting their services into new markets.
"With the end of the Temporary Permissions Regime in the UK, fintechs are looking elsewhere for growth. They're taking advantage of opportunities such as the regulatory sandbox in Spain and continued favorable conditions in Lithuania to innovate and push into new markets," says Jim Wadsworth, senior vice president for open banking at Mastercard.
Licenses were withdrawn from third parties that are registered in the UK, Germany and the Czech Republic. While the reason for withdrawal is not publicly available, we might assume it's due to non-compliance with regulators' security requirements — testament to the need for third party verification solutions to protect people and providers from data loss and fraud. 
Headlines at 31 December 2021:
529 third party providers were registered with a National Competent Authority in the EEA and UK. 313 third parties were registered in the EEA, while 216 were registered in the UK.

The number of third parties grew by 2.1% across the region — half the rate of the previous quarter. The growth rate in the EEA was 3.6% while there was no growth in the UK.

For the calendar year 2021, the total number of third-party providers across Europe grew by 79, representing a 17.5% year-on-year increase. 

The average number of TPPs approved to provide open banking services in each country surpassed 100.
Our European open banking tracker is brought to you in collaboration with Konsentus, the software as a service company in which Mastercard is invested.
Read a full summary of growth and progress in Open Banking for Q4 2021 below.
Open Banking to the end of Q4 2021
Number of registrations
At 31 December 2021, the total number of third-party providers that were registered with a National Competent Authority to provide open banking services in Europe was 529,216 were in the UK and 313 in the EEA.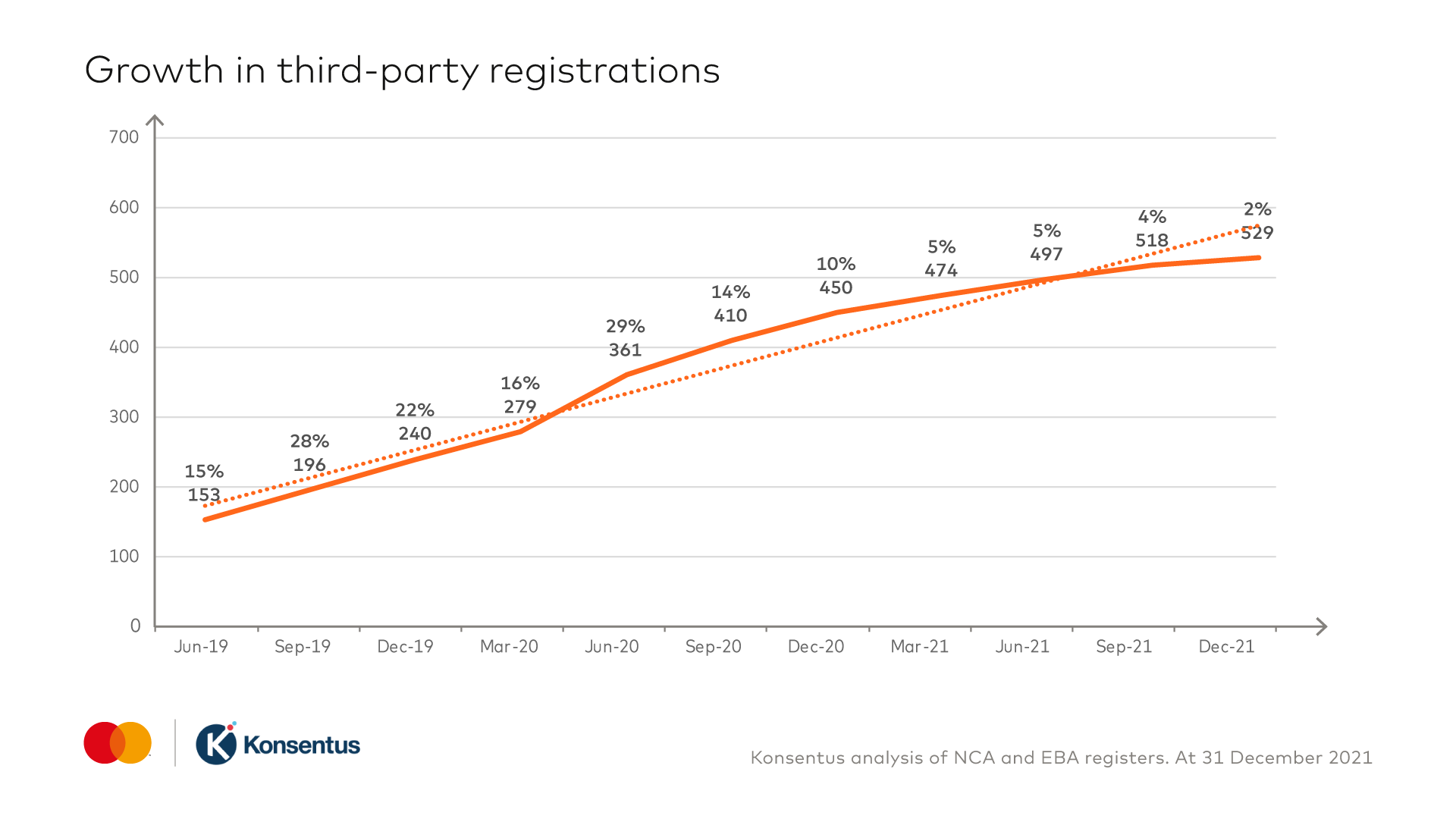 Last quarter the growth in number of third party providers was 4.2%. For Q4 2021, the growth is 2.1%, dropping for the second quarter in a row. There was a net gain of 11 third-party providers. Over 2021, the number of third party providers in the EEA grew at a rate of 25% compared to 8% in the UK.
Passporting growth was strong in Q4 2021, recovering from the sharp drop in Q1 because of the UK's withdrawal from the European Union. Spain saw the highest increase, with ten additional passported.
Location of registrations
The Netherlands' increase of 2 new home-registered third parties was the largest of any country, with 9 other countries in the EEA adding one each (Austria, Cyprus, Greece, Ireland, Italy, Luxembourg, Poland, Spain, and Sweden). Netherlands' total now stands at 24, tied with Poland for sixth-highest number of home third-party providers.
Lithuania continued its strong growth adding seven passported third party providers in Q4. There are now 26 home third party providers in Lithuania, with a total of 106.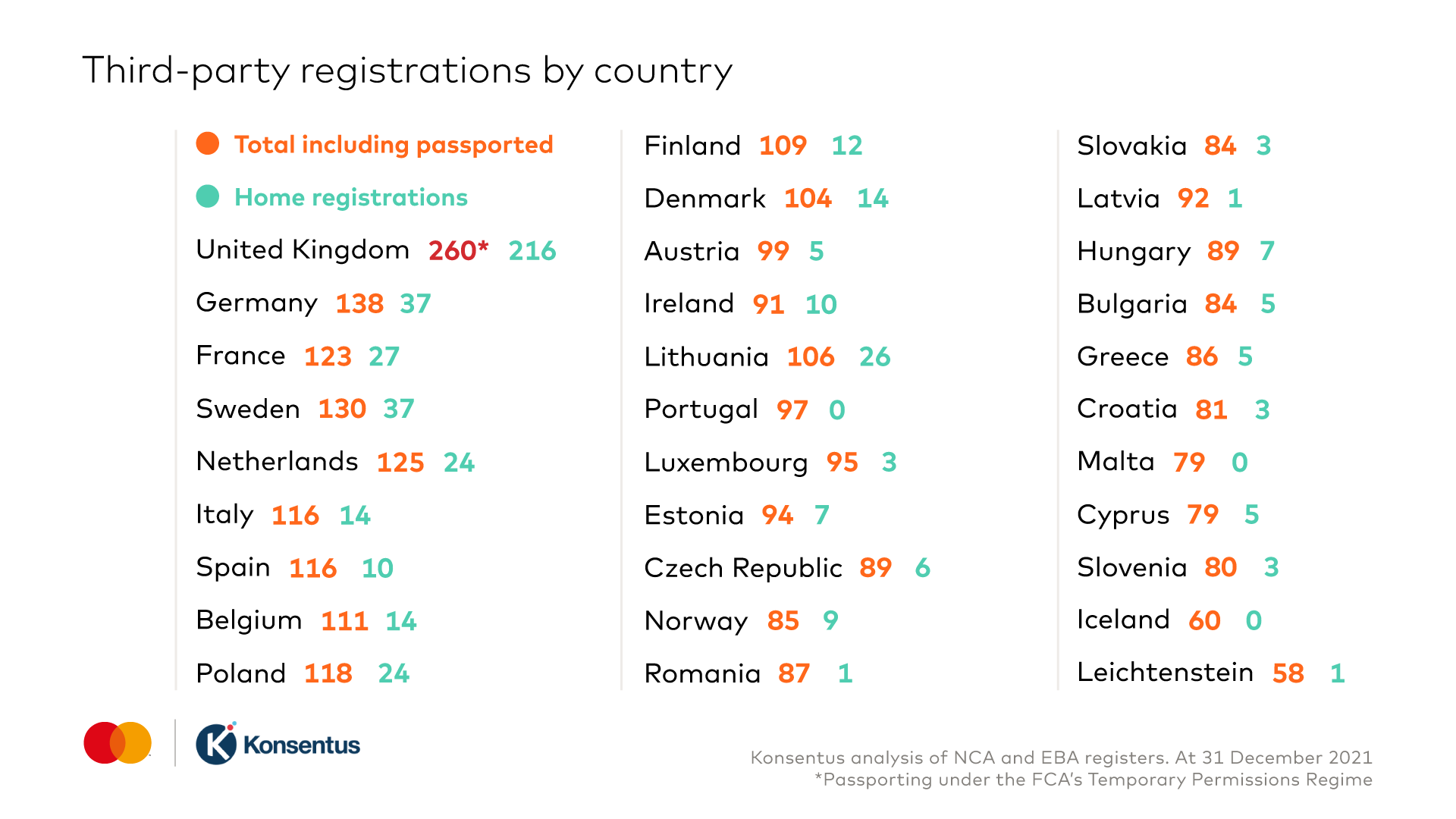 Spain cemented its lead as the top passporting country with a gain of 10 third party providers. With this, Spain joins Germany, Italy and Netherlands to surpass a milestone 100 passported third parties. Meanwhile, Portugal leapfrogged France for the joint fifth.
Now that the Brexit transition period has ended, EEA-based firms can no longer passport into the UK. They must now be authorized and regulated by the Prudential Regulation Authority and/or the Financial Conduct Authority in the UK. EEA-based investment funds also fall under this umbrella and can no longer be marketed under a passport in the UK.
Types of solutions
From the end of last quarter, 49% of third parties were registered as both payment initiation service providers (PISP) and account information services providers (AISP), while 45% were only registered as AISPs and 5% were only registered as PISPs.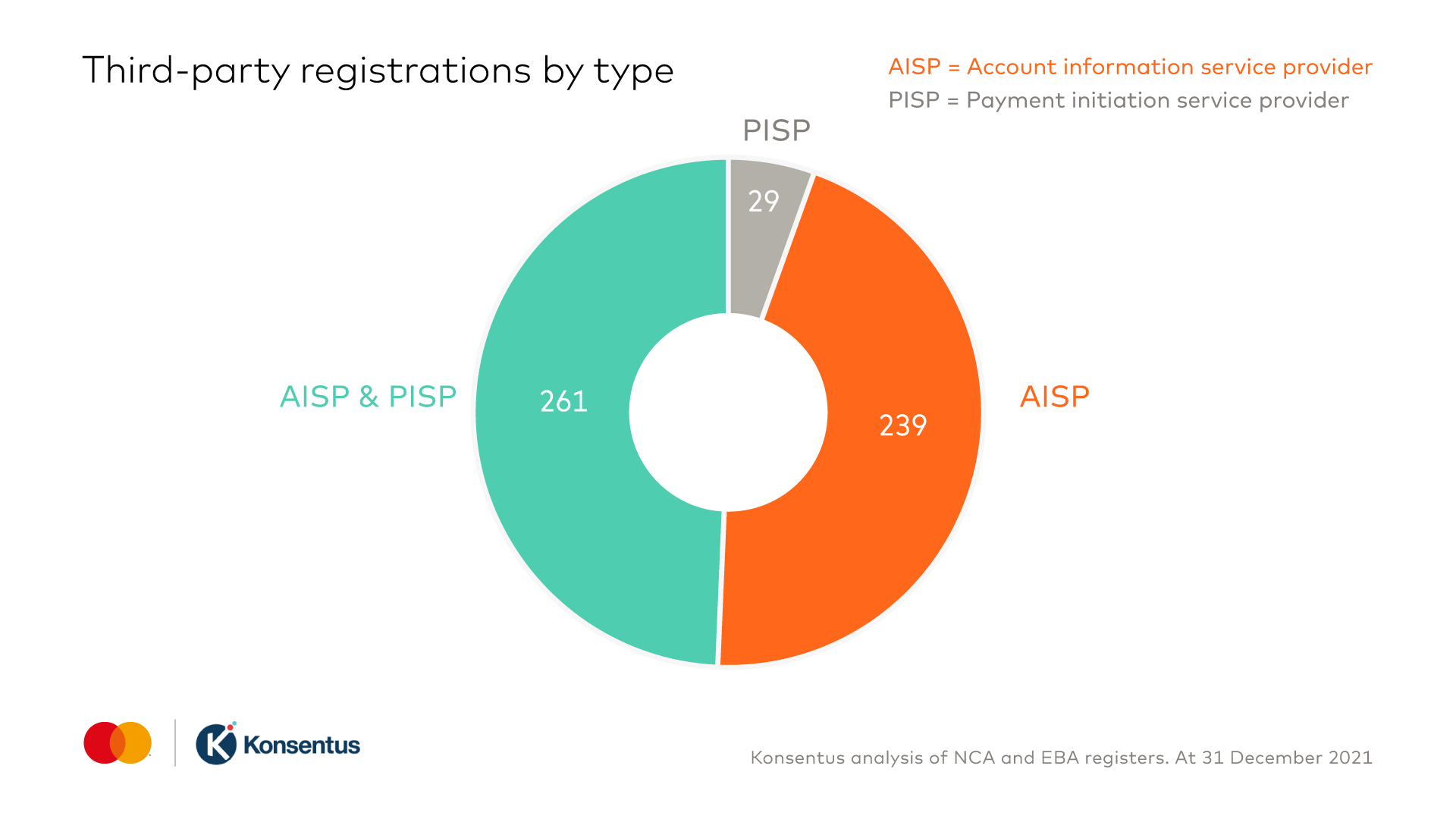 Provision of services based around account data have long been most common among new participants to the market, but growing confidence in the functionality and security of open banking payments among providers and users continues to drive additional registrations as dual providers.
Open banking at Mastercard
Danske Bank UK has partnered with Aiia to launch multi-banking for business and corporates across the United Kingdom. and Republic of Ireland. The partnership will enable all of Danske Bank U.K.'s customers to experience a simple, friction-free solution to managing company funds in one place. The "Accounts from other banks" feature uses open banking to enable a holistic view of financial health across banks and accounts, providing necessary transparency for business customers.
Commenting on the collaboration, David Thompson, head of digital channels of Danske Bank UK says: "Partnering with Aiia in the UK was the natural choice for us, as they've shown full commitment to building a secure and compliant platform through a quality driven approach."
Aiia has also begun collaboration with one of the most successful software technology companies in the Nordics, Netcompany. Netcompany is launching 'mit.dk', a new platform to streamline digital communication between the Danish people and public and private sector companies. The platform is set to bring open banking powered payments to the masses by enabling Danish citizens to pay bills and invoices securely and safely in one place.

The new digital post solution will also make it possible for more than five million Danish citizens to pay bills and invoices directly through the platform powered by Aiia's quality-driven open banking infrastructure. 
Information correct as of 22 March 2022
Data (unless otherwise sourced) is provided by Konsentus. Analysis of EEA National Competent Authority and European Banking Authority PSD2 registers
In June 2019, Mastercard led a multi-million-pound pre-Series A funding round in Konsentus