Q2 2022 Open Banking tracker
July 1, 2022
Europe's open banking market grew in the second quarter of 2022 as customer demand climbs and the sector continues to develop. Across the continent, the total number third-party providers (TPP) stood at 559 at the end of June, a rise of 24 (4.5%).
The rate of consolidation in the market also continues to increase with TTPs from nine European Economic Area (EEA) countries including Austria, Belgium, France and Germany being stripped of their licenses to provide open banking services.
A number of factors can contribute to the licensing losses. Mergers and acquisitions, business failures and complex regulatory requirements can all contribute to fluctuation in net gain or loss.
On the flipside, fintech companies are increasingly using passporting permissions to operate outside of their home markets and grow their businesses in neighboring countries.
Now, 16 European countries have more than 100 passported TPPs operating in their jurisdictions, marking a 60 percent jump over the previous quarter and a 300 percent rise over the past six months.
"Overall, this data is evidence of further market growth. We're seeing more licenses and more people with licenses passporting into more places which is interesting," says Alexia Hagen, senior vice president for open banking at Mastercard.
"You've also got this small but evidently growing statistic of people losing their licenses which is indicative of why, if you're a bank, you need fraud prevention."
Headlines at 30 June 2022:
559 third-party providers were registered with a National Competent Authority in Europe, up from 535 in Q1. Overall, 338 third parties were registered in the EEA, up from 316. A further 221 were registered in the U.K., a net increase of two.

Despite losing one home TPP, Sweden has cemented its place as the country with the highest number in the EEA (37), while Spain continues to have the highest number of passported TPPs, reaching 119 at the end of June 2021.

Between Q4 2021 and Q2 2022, the number of EEA countries with 100 or more passported TPPs has grown from four to 16 as emerging demand for passporting continues to increase.

Nine TPPs from nine different countries are no longer authorized to provide open banking services. 
Our European open banking tracker is brought to you in collaboration with Konsentus, the software as a service company in which Mastercard is invested. 
Read a full summary of growth and progress in Open Banking for Q2 2022 below.
Open Banking to the end of Q2 2022
Number of registrations
Following our pattern, we will report on total third-party registrations in Europe, showing consolidated figures and where appropriate, breaking out the UK and the EEA. At 30 June 2022, the total number of third-party providers that were registered with a National Competent Authority to provide open banking services in Europe was 559, 221 were in the UK and 338 in the EEA.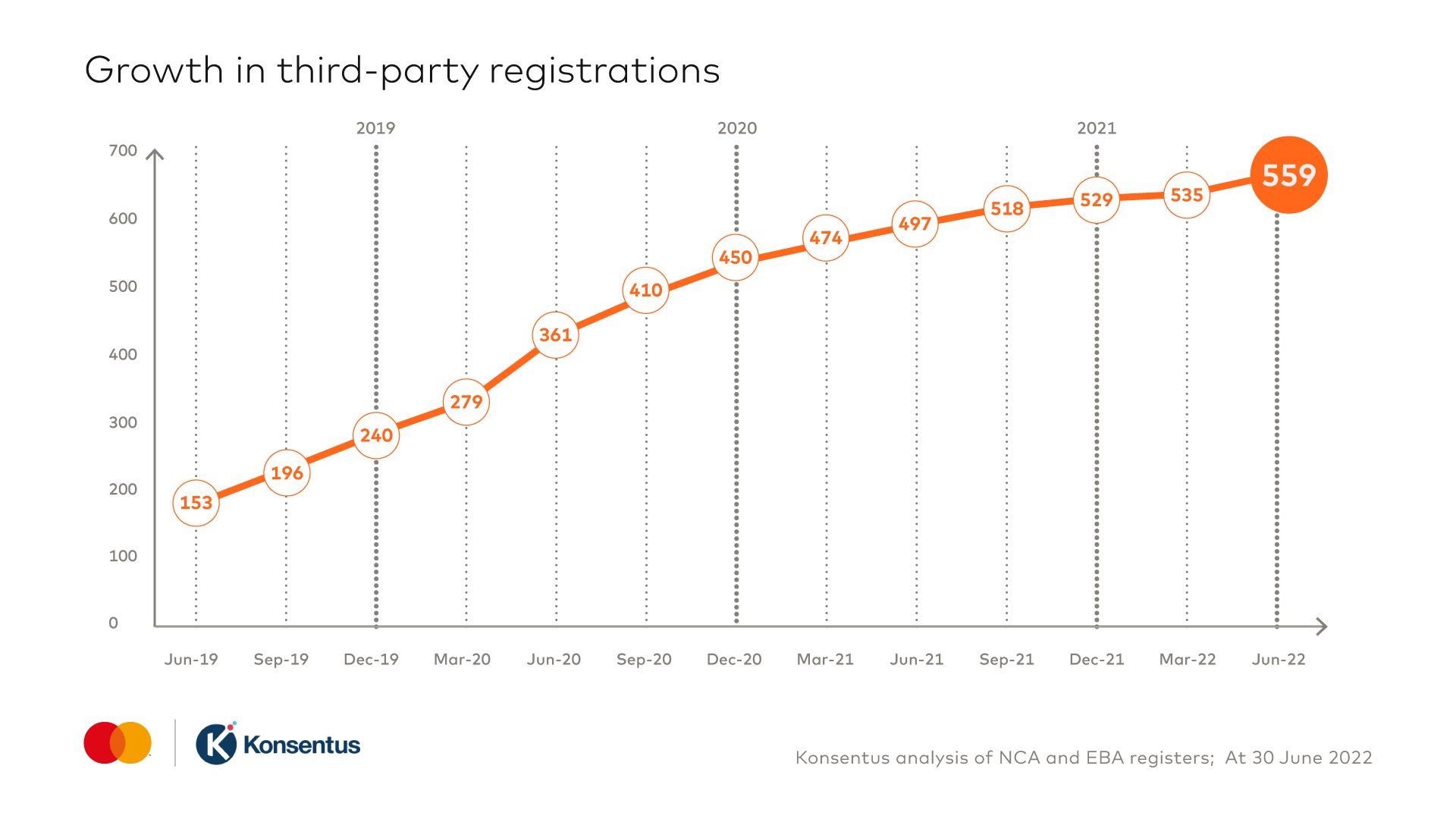 This quarter's growth is 4.5%, with a gain of 24 third-party providers. This marks an uptick after two quarters of sluggish growth, and follows a 1.1% rise last quarter.
Location of registrations
Spain continues to top the league of passporting countries with a total of 119 registrations, a rise of six over the previous quarter. Austria knocked Italy into second place as it added 15 passported TPPs to give it a total of 116.
Belgium added 12 TPPs to tie fourth place with Germany at 115. Portugal added 11 passporting TPPs while Latvia and Luxembourg nudged their way into top 10 for the first time as they both racked up 109.
The top 10 countries for home-regulated TPPs remained largely unchanged with the exception of Ireland knocking out Finland to take its place in the ranking for the first time.
In the second quarter of 2022, each EEA country had a total of at least 70 TPPs, representing an 11% increase over the previous quarter.
All countries now average over 113 third-party providers (home and passported or registered under the Temporary Permissions Regime). That marks nearly a 10% rise from the previous quarter.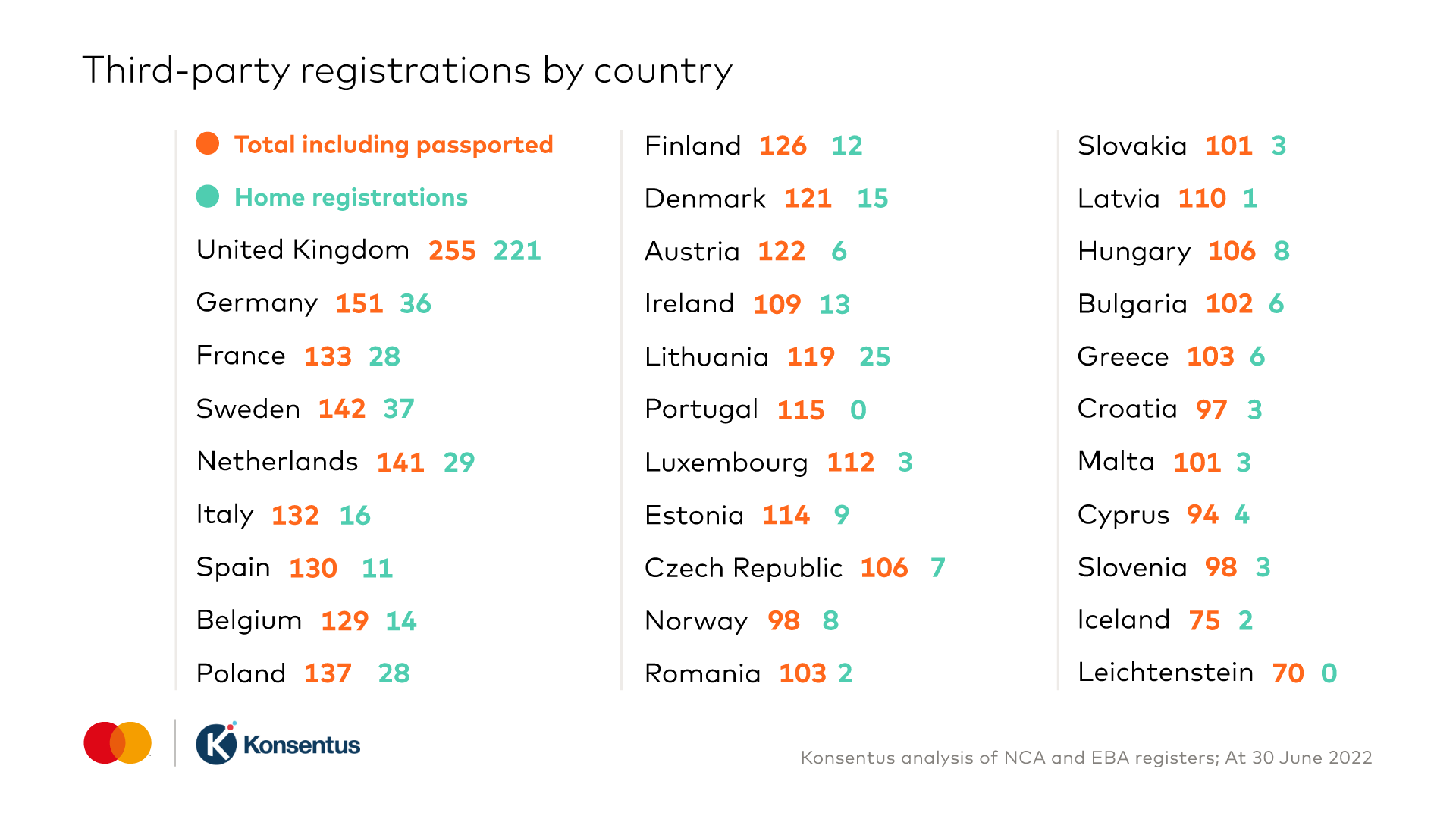 Now the Brexit transition period has ended, EEA-based firms can no longer passport into the UK. Where necessary, they will now need to be authorized and regulated by the PRA and/or the FCA in the UK. EEA-based investment funds also fall under this umbrella and can no longer be marketed under a passport in the UK.
Types of solutions
Now that EEA-based firms can no longer passport into the UK, tracking will be limited to EEA numbers. Of the newly-regulated TPPs this quarter, 71 percent of them are authorized to provide payment initiation services (PIS), despite higher regulatory requirements than providing account information services (AIS).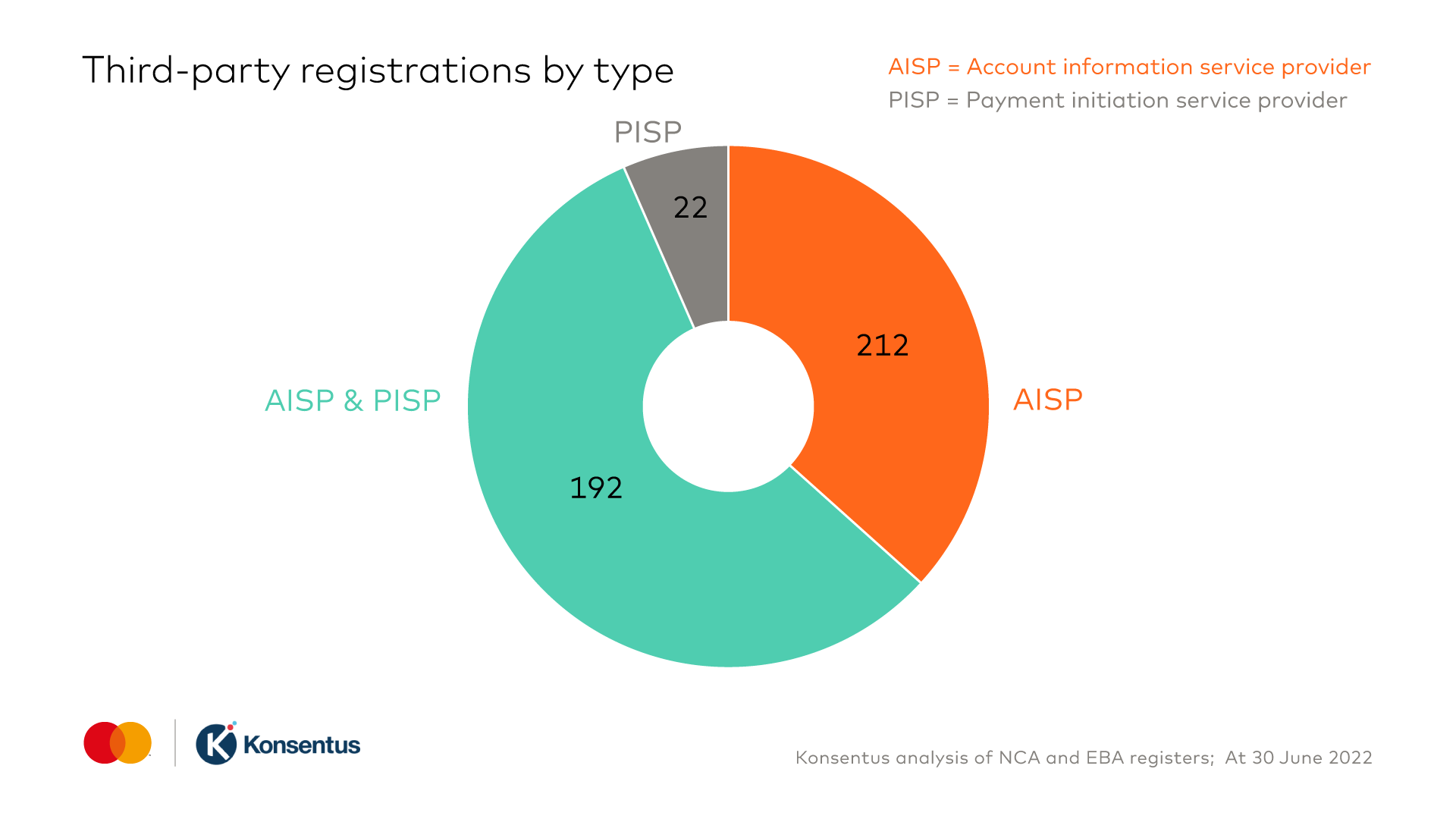 Provision of services based around account data have long been most common among new participants to the market, but growing confidence in the functionality and security of open banking payments among providers and users continues to drive additional registrations as dual providers.
Open banking at Mastercard
Mastercard's European open banking platform and Finland's biggest online payment company Paytrail are enabling over one million open banking transactions each month after joining forces.
The agreement means Paytrail can now offer over 20,000 merchants and online shoppers the opportunity to use open banking for ecommerce payments.
Integrated seamlessly into the ecommerce checkout environment, payments are initiated directly from a user's bank and saves them the time required to fill in payment details or switch between interfaces.
"Open banking ecommerce payments are convenient for consumers as they enable a faster checkout process, paying through an interface that the consumer trusts with their bank," says Katharina Luschnik, vice president for product sales for Aiia, a Mastercard company. For more on how open banking is shaking up the ecommerce landscape, read Mastercard's recent white paper entitled "Winning in the ecommerce space with Open Banking payments."
Additionally, innovative London-based start-up mmob will join Mastercard's three-month long Start Path program alongside Dapi, Finantier, Mono and Paywallet.
Mmob plans to test use cases and employ its embedded finance technology to further enhance user experiences during the Start Path program which will connect it with Mastercard's global ecosystem of banks, merchants, partners and digital players.
"Embedded finance is fulfilling the untapped potential of open banking technology by harnessing user data to deliver personalized, end-to-end experiences," says Irfan Khan, mmob's co-founder.
Through the highly competitive Start Path program, Mastercard has engaged over 300 start-ups globally, including Airwallex, Railsbank and Revolut, and has created more than 10,000 start-up connections around the world.
Information correct as of 30 June 2022
Data (unless otherwise sourced) is provided by Konsentus. Analysis of EEA National Competent Authority and European Banking Authority PSD2 registers
In June 2019, Mastercard led a multi-million-pound pre-Series A funding round in Konsentus