Open banking
Q3 2020 Open Banking tracker
October 1, 2020
It's been a year since the deadline for financial institutions in the European Union to comply with the Second Payment Services Directive (PSD2). The world has changed unexpectedly and significantly in the past 12 months, but the open banking ecosystem continues to grow strongly.
Our European Open Banking Tracker is brought to you in collaboration with Konsentus, the software as a service company in which Mastercard is invested. It shows an increase since last quarter in the number of third party providers and use of open banking-enabled services (as a measure of API calls) across the continent.
Headlines this quarter
410 third-party providers are registered with a National Competent Authority in Europe

The quarter saw a 13.6 percent increase in number of registered third-party providers

Three third-parties have had their licenses revoked

Every country has at least 85 registered third-parties through European passporting rules

93 percent of third-parties are registered to provide account information services; of these, 47 percent are also authorised to provide payment initiation services
Read a full summary of growth and progress in Open Banking for Q3 2020 below.
Meanwhile, data from the Open Banking Implementation Entity (OBIE) shows UK demand for open banking enabled products has more than doubled in the last eight months as more than half of people increased their use of digital financial services during the pandemic. This is particularly encouraging for our industry as it brings new solutions to market. 
On the home front, we were excited to announce in September 2020 that Tesco Bank, a wholly-owned banking subsidiary of one of the UK's largest retailers, is to become the first UK bank to use Mastercard's Open Banking Connect solution to allow its 2.6 million credit card customers to pay their balance using electronic payment services. We hope and expect it's the first of many similar payment initiation services.
But what of the world? In our next tracker, we'll share insights from the Open Future World directory, which launched at the end of last month as the first inclusive, global and easily-searched directory of organisations involved in the rapidly-growing open banking and open finance ecosystem.
With growth comes both opportunity and challenges. At Mastercard, we will continue to support all participants in the open banking ecosystem to enable a vibrant and competitive financial services landscape as it continues to evolve.
Open Banking to the end of Q3 2020
Number of registrations
At the end of June 2020, we reported that 361 third-parties had registered with a European National Competent Authority, having increased 29.4 percent on the previous quarter. This coincided with people's accelerated adoption of digital means of paying and managing their finances.
On 30 September, there were a total 410 third-party registrations — a 13.6 percent increase in three months. It's the lowest rate of growth rate since Q2 2019. Three providers that were previously registered have had their authorisation status withdrawn in the last month: two in Estonia and one in Spain.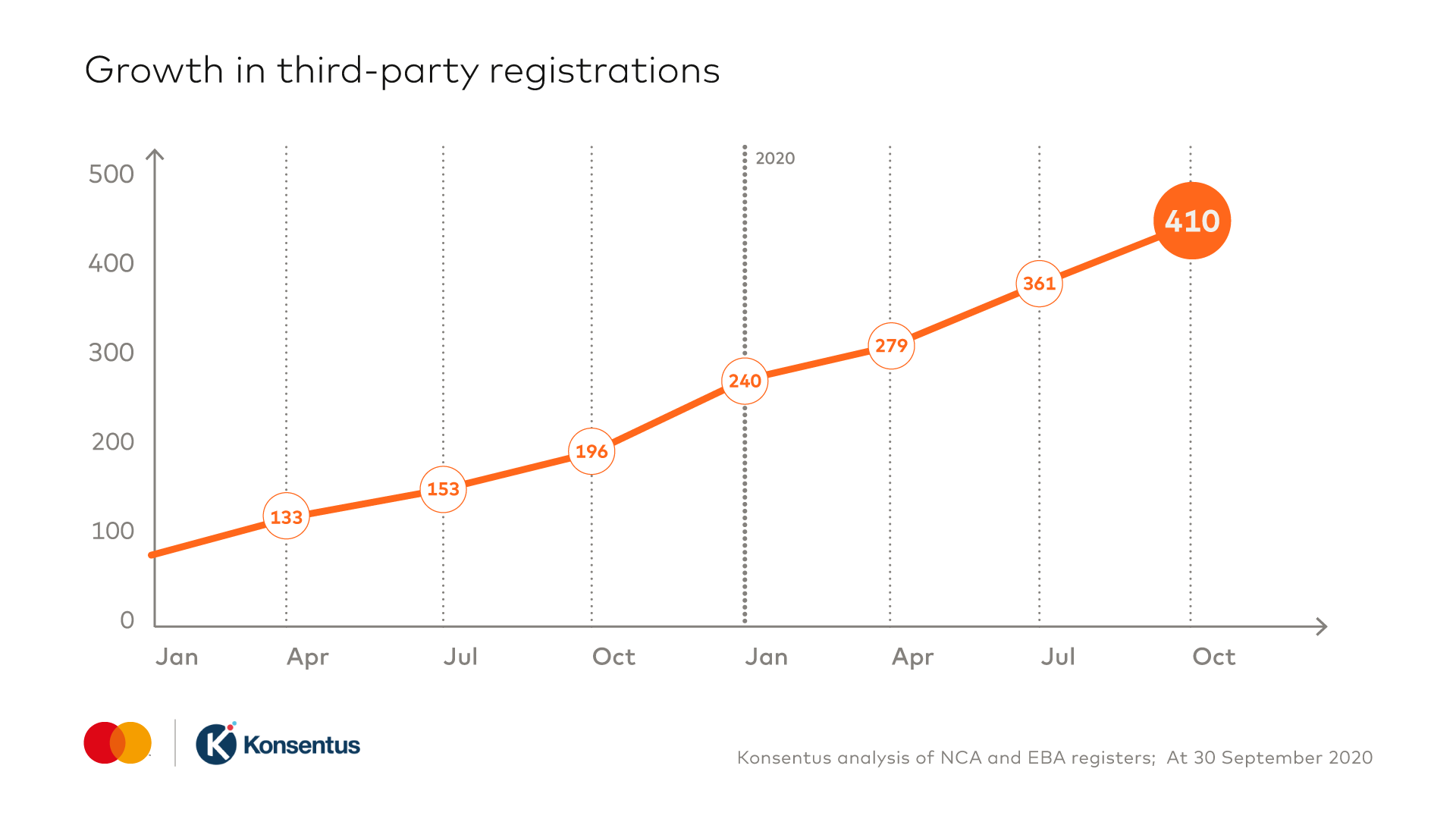 Based on historic data and growth trends, but not factoring in the impact of the novel coronavirus, Konsentus had predicted the number of third-party providers to reach 417 by this time — an estimate that's proven fairly accurate if we include the three third-parties that have since been discounted. It shows that momentum in growth of new service providers has been maintained despite the many disruptions to the way we live, work and do business this year. 
Location of registrations
The number of providers that are registered to provide services in the UK has risen 30 percent to total 269, including 189 third parties that are registered with the UK's Financial Conduct Authority. This means that nearly half (46.1%) of all registered third-parties are registered at 'home' in the UK. 
Germany remains second with 159 registered providers, and France moves up to third with 145, including third parties that are licensed to operate under European passporting rules.
All countries now have at least 85 third-parties licensed to operate in their market under passporting arrangements, and most have more than 100. Portugal and Romania still have no home registrations, and most new registrations continue to be in the more mature markets.
Types of solutions
At the end of September 2020, 191 third parties (46.2%) are registered to provide only account information services (AISPs). 192 third parties are registered to provide both account information services and payment initiation services (PISPs), which again means that most (46.8%) are dual providers. 27 third parties (7%) are registered to provide only payment initiation services only. ​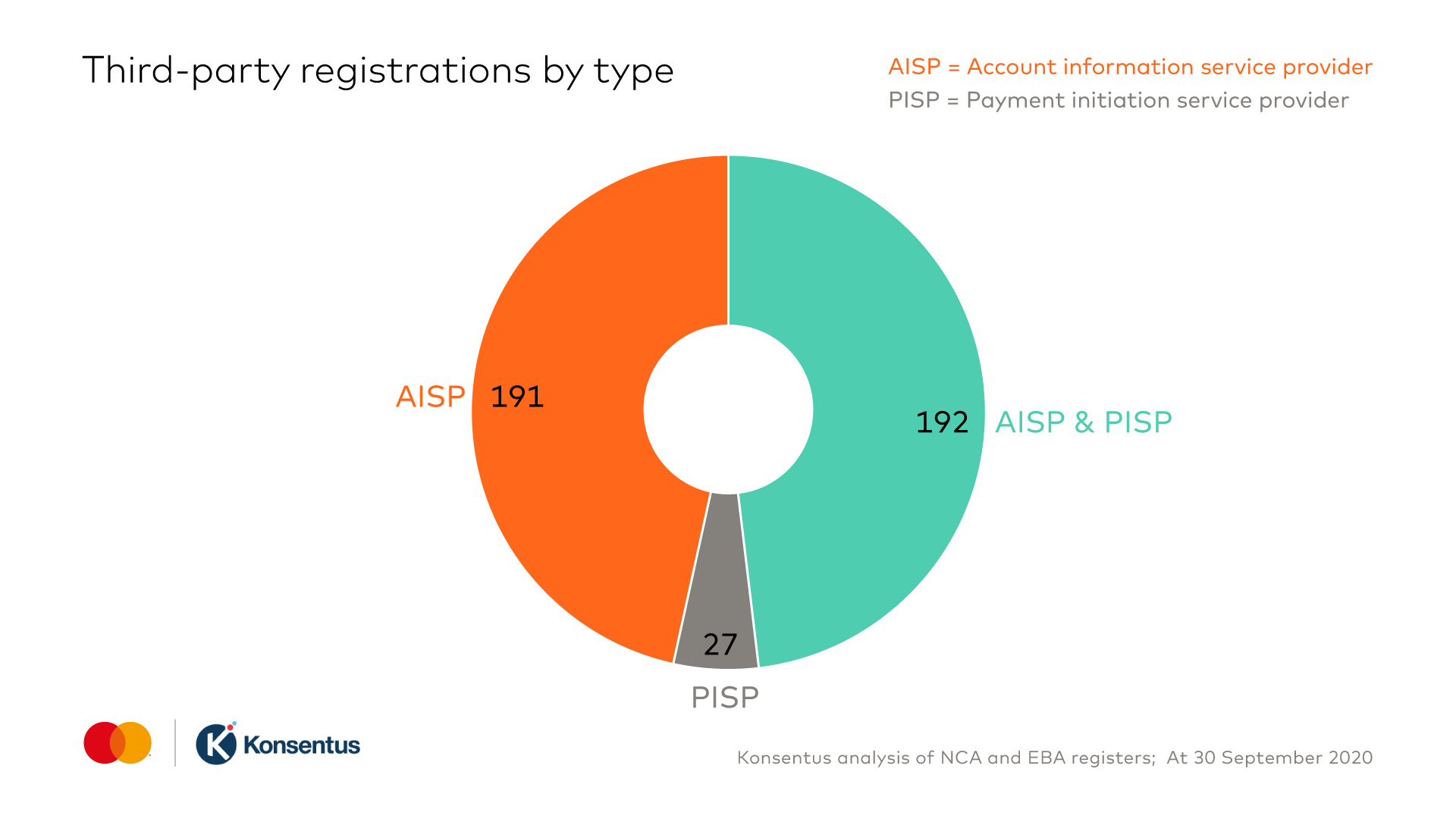 Over half (52.2%, or 214) of registered providers are themselves independently authorised to provide and execute payment services that are not connected to taking deposits or issuing electronic money; one in eight (13.6%, or 56) are classed as e-money institutions, and a third (34.1%, or 140) are account information service providers. Open banking offers an opportunity to diversify their business to provide a more holistic payments and financial services offering.
Open banking users and activity in the UK
According to latest data from the OBIE, the number of successful calls made by third-party providers using account providers' APIs grew to 534.6 million in the month of August 2020, and has more than doubled in the last eight months. This data is for 19 UK service providers since May 2020.
API availability declined in August to 98.73 percent (from its highest level 99.56% in June 2020), but this is largely skewed by some very poor (<95%) availability, and planned downtime during non-core hours (00:00-06:00). More encouraging is the faster average response time for a successful API call, which averaged 623 milliseconds in August. Rejected API calls as a proportion of total API calls 0.011 percent, which gives us reason to believe the user experience of UK open banking-enabled services is on the up and up.
Comparable data is not currently available for the rest of Europe or globally.
Information correct as of 14 October 2020
Data provided by Konsentus as at 30 September 2020. Analysis of EEA National Competent Authority and European Banking Authority PSD2 registers
In June 2019, Mastercard led a multi-million-pound pre-Series A funding round in Konsentus