Cross-border payments
Helping cruise ship workers reach new horizons and home
January 12, 2022
Brightwell helps 200 ships provide unbanked crew with a simpler way to get paid, spend and send money abroad. Powered by Mastercard Cross-Border Services, it allows people to remit money internationally from a digital wallet, making smoother sailing for everyone.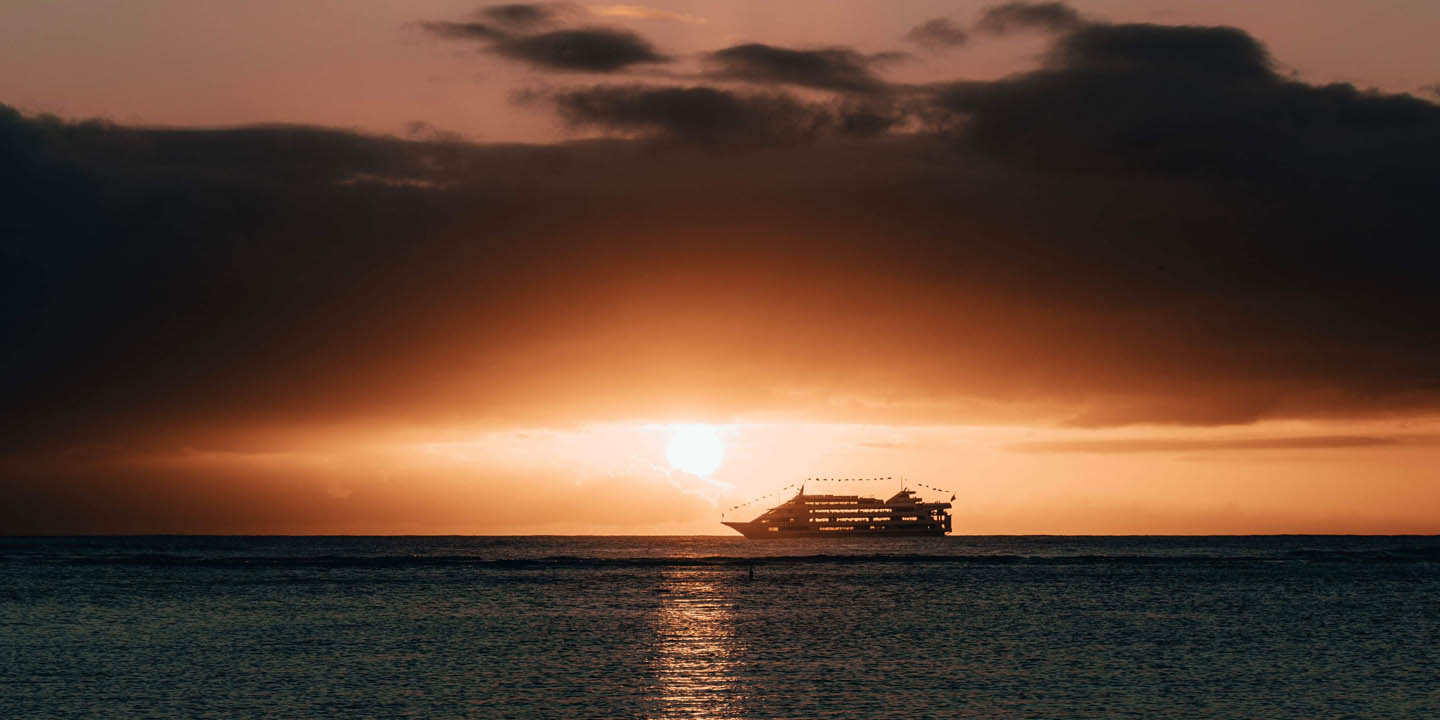 For crew members aboard the world's largest cruise ships, earning a living comes at the cost of months spent away from family and friends.
"These are some of the hardest working individuals that you will ever meet. They work up to 14 hours a day for months at a time to support family members, such as young children, and neighbors. They're incredible people who are trying to change their lives," says Audrey Hall, senior vice president for product at Brightwell, a cross-border payroll and payment solution provider.
Adrift in a cash economy
Recently (and still in some cases), cruise ship workers were paid in cash. The paymaster or purser on ship would load a pallet of bills, most often U.S. dollars, and count out individual wage packets for every crew member each week. Not only was it a time consuming and costly exercise, but transporting vast quantities of cash to remote docks was a huge security risk for cruise ship operators and local staff.
For crew members themselves, many of whom are unbanked, receiving payment in cash provided little opportunity to take control of their financial futures. "How can they save? How can they pursue their dreams? Some people want to go to school. They want to send their kids to school," adds Hall. When you're aboard a ship with no way to spend or send money, an envelope of cash is nothing but a personal security risk.
Almost all crew members remit money to family, friends and neighbors back home to help with basic living expenses, or otherwise exchange their dollars for the local currency in which they bank. Being limited to paying with cash means visiting an exchange house on shore. These cross-border transactions can be slow, unpredictable, and difficult to track. Fees can also be costly, especially for smaller value transactions that are made in times of emergency.
73%
of consumers sent money home to support family and friends in 2020
Seventy-three percent of consumers sent money home to support family and friends in 2020, and 43% say their families couldn't have survived otherwise. But depending on their responsibilities, crew aren't always able to get off the ship at port. They may have to rely on others to send money on their behalf, which is especially risky and prone to error. Those who were out at sea during the early days of the coronavirus pandemic were especially isolated when it mattered most.
Digital payments open up oceans of opportunity
Recognizing these multiple challenges, Brightwell developed an industry leading digital payroll solution to empower crew members' financial freedom. First and foremost, it provides a means for their employers to pay their wages by direct deposit into their bank account or onto a prepaid card.
Using the Brightwell Navigator app or website, crew can choose how to allocate their pay and view their recent card balance and transactions, which provides them with transparency and control. Crew trust the U.S. banking system; it's safer and far more convenient than receiving payment in cash.
And for cruise line operators and merchants — Brightwell's direct customers — the solution all but eliminates complication and risk. Rather than load, count and distribute packets of cash, customers submit a single batch file for payment, benefiting from huge cost, time, and resource savings. The solution also provides high-level insights into how crew are saving and spending their earnings, which helps employers provide welfare and services that more effectively support crews' personal well-being.
Crew members can send money to loved ones around the world in a few taps of their smartphone. In any given month, an estimated 75% of Brightwell users send money to over 120 different countries around the globe. "With our solution, they can send home money at more critical times for family emergencies," explains Hal Ramakers, senior vice president for global solutions at Brightwell. Now, 90% of Brightwell Navigator users send money abroad. "They have that capability at their fingertips," Ramakers adds. Overall, the company reports 90% increased adoption of its digital services since the pandemic began.
90%
of Brightwell Navigator users send money abroad
Brightwell's remittance capability is powered in part by Mastercard Cross-Border Services1, which allows people to make international payments to bank accounts, mobile wallets, cards and cash pay-out locations in over 100 countries and 50 currencies. "We have multiple remittance providers in our solution," continues Ramakers. "[But] we had the largest uptake ever with the [Mastercard] solution of bringing cash payouts through our app."
Simple integration of Mastercard Cross-Border Services with the Brightwell Navigator app helped to make it more user friendly — especially for users with limited financial or digital skills and experience. Senders know in advance how much will be received and when funds will be available, and get instant confirmation when the transaction has been completed. Family, friends and neighbors can receive funds quickly and reliably into their bank account or mobile wallet or collect in cash at a range of safe and convenient branch locations. Transactions are fast, secure, and predictable and come with the wide trust and recognition of the Mastercard brand.
"We had the largest uptake ever with the [Mastercard] solution of bringing cash payouts through our app."
Brightwell's solution is used by more than two thirds of the cruise payroll industry. Cash payments will continue to play a role, but uptake continues to grow — spreading by word of mouth between ships and companies — with customers reporting a large increase in digital pay outs. It provides crew members with safe and convenient access to their earnings however they choose, helping them to take control of their financial futures and stay connected to their worlds.
Brightwell and Mastercard: simplifying cross-border connectivity
Enjoying a close, collaborative, and strategic relationship, Brightwell and Mastercard are now partnering to develop a payment platform for financial institutions to overcome the complex regulatory nature of consumer transactions, helping to empower people with better choices to send and receive money around the world.
A team of innovators from both companies are developing a quick and easy-to-integrate solution that leverages combined capabilities, such as Brightwell's operational experience and Mastercard's extensive network reach and technological expertise.
"Our shared passion with Brightwell for helping hard-working international workers share their income with loved ones safely and conveniently makes this a natural partnership," says Mark Corritori, vice president for Mastercard Cross-Border Services. "Brightwell's technological expertize combined with their years of experience make them an ideal partner with whom to scale our cross-border payment solutions with clients around the world."
"We've been in the cruise industry for a long time; now we're in the cross-border industry," adds Ramakers. "We understand the pain and the challenges that come with implementing [a cross-border payment solution]. It's about repositioning what we're experts at and what we can bring to the world with Mastercard to help solve that for other people who need help…
"We're staying focussed on the end user, because whether they're on the cruise lines, whether they're in the gig economy, whether they're in hospitality, their needs are the same. That understanding of what that person's needs are and how they communicate, how they feel — it's important for us to bring that knowledge to the clients that we're going to partner with to make a difference."

To learn more about Brightwell and Cross-Border Services, just ask.